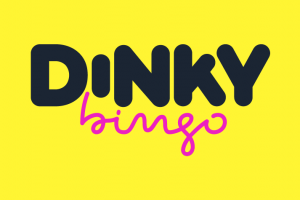 Dinky Bingo – £10 Bingo Bonus, 5 Free Bingo Tickets & 20 Free Spins
T&Cs Apply. View site for more info. 18+ Gamble Responsibly.
Free Offer:
Free bingo tickets
Deposit Methods:

ApplePay Bingo

Mastercard

Mastercard Debit

Neteller Bingo

PayPal Bingo

Paysafe Card

Telephone

Visa

Visa Debit

Wire Transfer

Currency:

British Pound

Canadian Dollar

Euro

USD

Min. Deposit:
$/£/€ 5
Min. Withdrawal:
$/£/€ 5
Withdrawal Time:
2-7 days
Software:
Dragonfish Bingo
Halls:
75 Ball Bingo, 90 Ball Bingo, Free Bingo,
License:
Gibraltar, UK,
Support:
Email support, Telephone
Established:
2020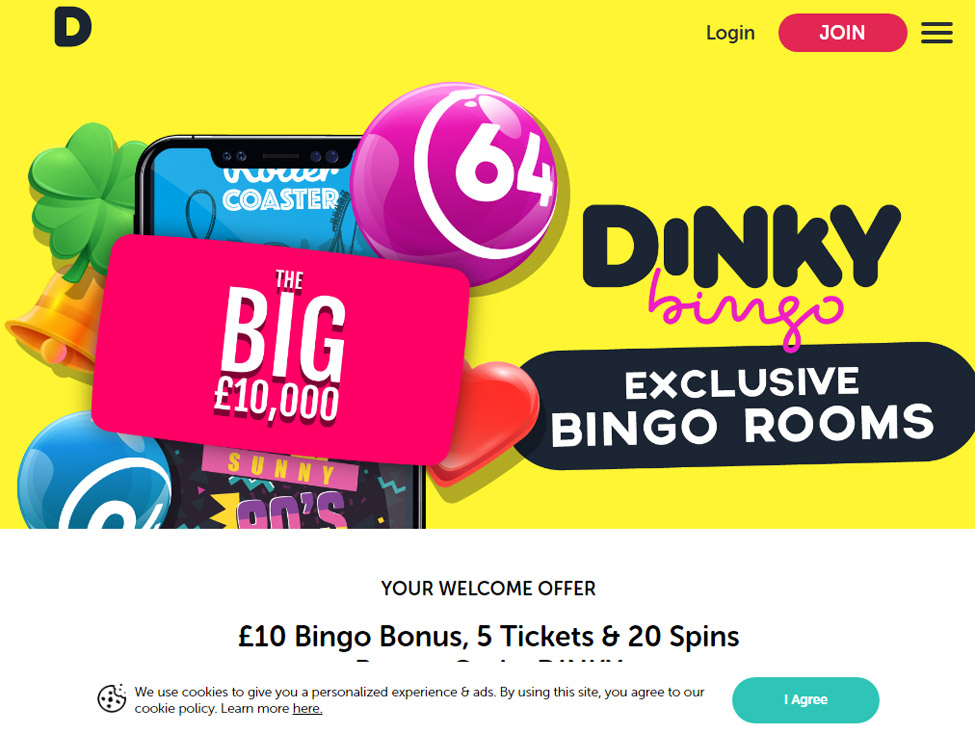 Dinky Bingo is not just a new site but a community. Play Bingo and other games, make friends, exchange gossip and recipes. In short have a blast. Starting at Dinky Bingo is as simple as 1-2-3. Download and install the software, register and start playing. The standard 90 Ball Bingo has three winning patterns plus a jackpot.
The Auto Dab system marks the cards for you and automatically calls Bingo when you win. So if you are checking out are other diversions while playing you need not worry about missing a winning card.
Dinky Bingo Bonus Codes
Bonuses are a way of life at Dinky Bingo. You get a bonus for signing up, a bonus for making a deposit, a bonus for referring a friend, a bonus for purchasing cards and other bonuses as well. Loyal customers are rewarded with a Birthday Bonus, a birthday gift from Dinky Bingo.
Dinky Bingo has a Fun Lounge which offers a host of interesting diversions. There are a host of instant games that you can play for free. These include a variety of roulette wheels, poker games and slot machines. Or you can play Chat games while playing Bingo.
The Chat Masters will take you through these games while keeping you entertained. Check out your fellow members at our Buddy Profiles page and leave your profile and photo there if you want.
Competitions are order of the day as well and answering a simple question could win you great prizes.
While you are at Dinky Bingo look up recipes for tasty dishes, find out what your future holds with your stars and add to the spiciest no holds barred gossip.
Dinky Bingo Review
For our new customers there is a section that lists out the chat lingo at Dinky so that they are not lost when reading the conversations in the chat rooms.
Dinky Bingo is on round the clock, so you can join in whenever it is convenient for you. The chat games schedule is put up on the site so that you can synchronize your Bingo time with your favourite chat games. Remember Happy Hour doubles the bonuses and is a big favourite.
Visit Dinky Bingo and you will never be lonesome again.
There's something for everybody at Dinky Bingo – all your favorite penny bingo and free bingo games, a great selection of progressive slots, scratch-cards, video poker and keno!
Their doors are open all day, every day, plus Dinky Bingo has full 24 hour support and a great CM Team waiting to meet, greet and entertain you. You'll feel like you've found a new home the minute you step into chat.
As well as online bingo, there are built in slots and scratch cards, plus a unique Bingo Roulette game where you can wager on the number or letter most likely to win the next game.
Dinky Bingo No Wagering
They are now regulars at Dinky Bingo and one of the reasons is that on top of the bonus we received for our first deposit, there is a huge bonus on every deposit you make! It sure seems like we'll be staying loyal to this great online bingo site.
Dinky Bingo can't guarantee Dinky'll win every time at Dinky play, but they can guarantee, as a member, that Dinky'll have the time of Dinkyr life trying!
By joining Dinky Bingo and Dinky'll also be joining their Loyalty scheme. For every dollar Dinky spend at Dinky Bingo will earn Dinky Dinky Comps. Dinky can then cash in Dinkyr Comps for real dollars.
Dinky Bingo now offers Dinky more bingo games and bingo jackpots, more choice and more chances to win!
Dinky Bingo is fun and full of surprises. They always have a promotion going on,
Dinky Bingo now has multiple Bingo Halls – each with its own schedule, chat room and chat team – so Dinky can choose to play in a game that best suits Dinky mood and Dinky budget.
Each hall has its own game schedule, chat room, dedicated chat team and its own prize and jackpot funds. And, of course, each room and chat team will have it's own followers.