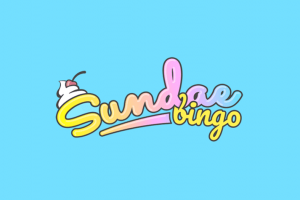 Sundae Bingo – new bingo experience, no wagering
T&Cs Apply. View site for more info. 18+ Gamble Responsibly.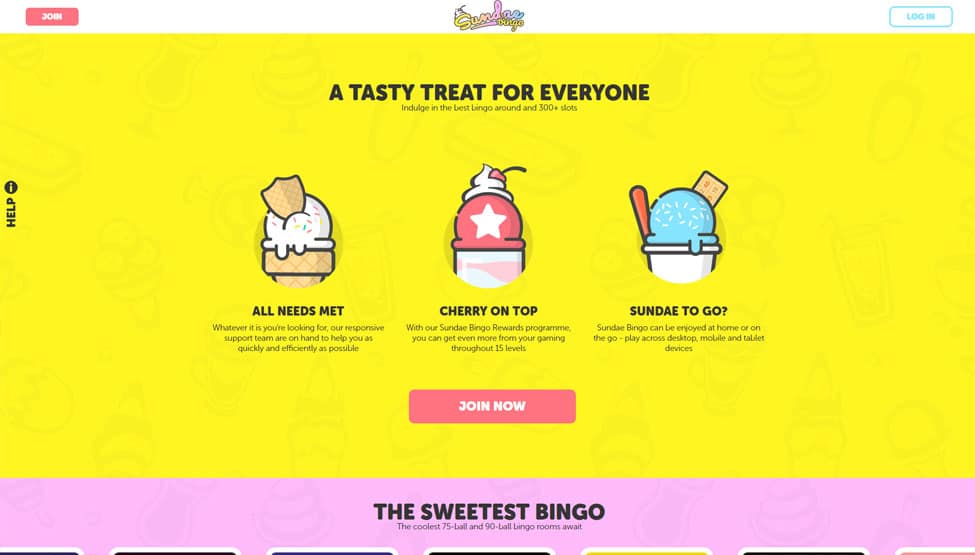 Sundae Bingo is aesthetically pleasing and aimed very much at women with lots of pink and sparkles. There is a moving window on the home screen which shows visitors what's on and when, promotions and freebie offers as well as a 24/7 customer support chat page link and live, ever increasing jackpot amounts to entice you in to get winning.
Overall it looks fun and makes you want to get involved. Plus advertising their £1000 daily jackpots is very tempting too.
Sundae Bingo Welcome Offer
There is a 700% welcome bonus at Sundae Bingo when you top up £10 or more on your initial deposit. This is more than most other sites, which usually offer 300%. You can receive a maximum of £150 free!
Sundae Bingo has made getting started very simple. The Bingo tab at the top lists everything very clearly including their bingo rooms, progressive & guaranteed jackpot games, casino styles games, team bingo and the chat game room.
Even if you are brand new to bingo sites, this layout is so simple to understand.
Plus there is a fantastic, clear description for each game room making it easier to choose what kind of gaming you prefer, even if you are a total novice. The Community tab at the top of the page is also a fantastic resource for new members with their Meet The Chat Hosts and Chat pages.
Banking is simple as they have a very wide variety of payment options at Sundae Bingo including major credit and debit cards including Solo and Maestro, bank transfers, Neteller, UKash and many more so there is a simple option for every player.
Bonuses & Promotions
The Promotions page is a simply laid out resource, and has every current promotion on it, including their Bingo Reward Club information, BOGOF Bingo deals, Hot Number which allows the winner to wine 50 free bingo cards, Super 6's which is, as it sounds, very 6 based including the chance to win £700, and Wins-Day Wednesday, their weekly extra winning day.
Their bingo rooms are limited to 90 ball and 75 ball, but their extra games more than make up for it, although they also have progressive jackpots on their bingo games occasionally so it is worth keeping your eye out on the regular promotions advertising box on the home page to take full advantage.
There is also a monthly Team Bingo with over £1000 in prizes. The games include classic casino, slots like Wheel of Fortune and progressive jackpot games with over a million euros up for grabs.
Sundae Bingo offer Buy One Get One Free every day for the Lilac Lounge and also during Bingo Fiesta games but only at certain times which means every bingo card you buy during this period you get one free. The BOGOF timings are 7am – 8am, 1pm – 2pm and 10pm – 11pm and in Bingo Fiesta games between 11am – Midday and 4pm – 5pm.
Sundae Bingo is a fun, cheerful site designed to entice the ladies in with their design and lovely community feel, but with their tempting offers, promotions, bonuses and wide variety of ever changing games, everyone, no matter how experienced in online bingo, will find something perfect for them.
And if you have any questions their chat hosts and customer support are always on hand to help out.
Bingo Games
Sundae Bingo is one of the most cheerful online bingo sites you can find. With its bright colours and friendly attitude this London themed online bingo site is a top favourite with bingo players across the country.
Get a fantastic welcome with a fun scratch card game. Make your first deposit, anything from £5 to £100, and get a chance to earn a free cash match up to 200%. Play the Sundae Bingo Scratchcard game to reveal the bonus you have won.
You could win up to £2,000 in free bonus money here! Sundae Bingo also has a daily free bingo game where you can win as much £1,000 every day. The Free 1,000 plays at 9.15pm every night and tickets are absolutely free.
It's an online bingo site and there are tons of bingo games here, obviously. Sundae Bingo brings you piles of fun filled Instant games too, so you can play whichever game takes your fancy at any time, day or night. Get your fill of the regular 75 and 90 ball bingo games and play the latest craze, 5 line bingo too.
The spread of Instant games includes a superb line up of hit online slots, scratch cards, casino games and entertaining instant win games.
Play guaranteed and progressive jackpot games daily and a whole lot of special bingo games that celebrate everything from Wimbledon to Christmas and everything else in between! Look under the Promotions tab for Specials and you will find the latest new games and promotions. Play guaranteed jackpot games and tourneys that include both bingo and the Instant games.
You will find many bingo games where you don't need to spend a fortune on tickets. Play penny bingo games daily and win real cash prizes. There are heaps of free bingo games here too. Look through the Weekly Pre-Buys section where you will details of the big games that play every week. Win cash jackpots, big piles of points and other prizes like shopping or leisure vouchers. Weekends are also packed with offers.
Use the best brands for your financial transactions at Sundae Bingo. There is a wide selection of brands that have tied up with Sundae Bingo to make your online gaming experience here absolutely safe. Visa, MasterCard, Neteller, Maestro, Paypal are some of the names you will find here.
Angie and her band of helpers is always at hand should you need any assistance. You can call them free from UK landlines and you can also send in an email if you prefer. Live Chat is available around the clock and the CMs in the game chat rooms are also happy to help.
Sundae Bingo is an excellent choice if you're looking for variety in the bingo and Instant games available, exciting offers, promotions and attractive prizes all at one address.