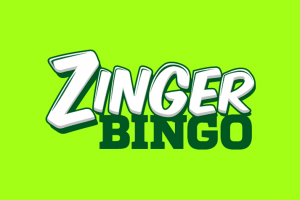 Zinger Bingo – 10 Free Spins + £80 Free Bingo tickets
T&Cs Apply. View site for more info. 18+ Gamble Responsibly.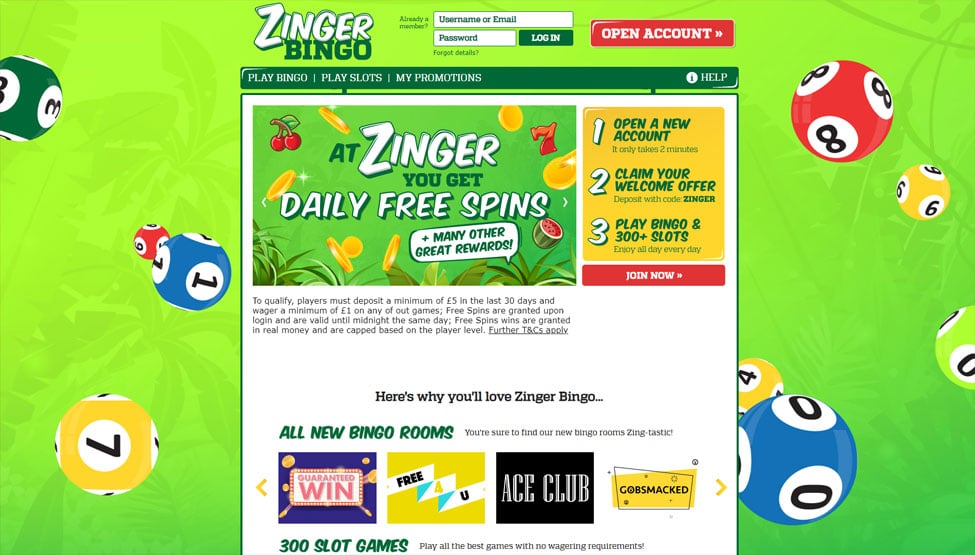 Zinger Bingo is new to the online Bingo Scene, but can it hold its own being the mouse in a roomful of elephants? Read full review below to see if Zinger Bingo can match its larger and more experienced competitors.
The homepage is a clean, organized website that does waste any time in loading quickly. A simple layout makes it extremely easy to take in everything that this site offers and get to where you want to be fast and easy.
We especially liked the odometer style ticker showing the exact status of the progressive jackpots. The color scheme is all pink and green pastel hues, which is pleasing on the eye and unobtrusive.
Zinger Bingo Bonuses
For people who have already been to a number of 90-ball websites, you might feel that bingo seems a bit familiar in how the game is controlled. This is because Zinger Bingo is a member of the large and reputable Dragonfish Network, and delivers its bingo games using the popular software.
This means that even though the services and facilities are not entirely unique to Zinger Bingo, the advantage of taking on other players from other Bingo Websites is alluring.
Also, because website does not have the long history and high reputation as some of the larger casino companies, Zinger Bingo can build its reputation off of the already established network and gain notoriety that way.
Bingo Games
You may have not heard of Zinger Bingo before, but you can gamble in security and confidence. Zinger Bingo keeps things very simple in its membership process and signing up is quick and easy, and bingo will even give all new players £1 into their account to start playing with.
Software that does not require any sort of download delivers some of the best 90-ball play you can find online.
Unlike other Dragonfish websites, you cannot play North-American 75-ball Bingo and this may be a turn off for those people who prefer to play the North-American versions over classic 90-ball play.
Site runs games 24 hours a day and most sessions end up being very busy with people playing from all over the world. Also, with cards costing as little as 10p, you can play a lot of bingo with very little investment.
Like with all websites, the sheer number of people playing through the day causes progressive jackpots to climb rapidly, creating larger jackpots than you can find most everywhere else.
Zinger Bingo may be the new kid in the Bingo world, but they certainly act and feel like a longstanding and reputable bingo hall. Everything in their website is geared to be quick, easy, and above all, simple. You can't go wrong playing at Zinger Bingo. If you're new to online bingo, this site is one of the best places to start!